Become a Master Bartender today!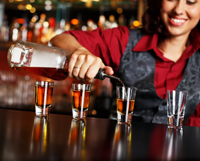 Master Bartender is a prestigious title that shows potential employers you are a versatile, knowledgeable bartender. Rserving
®
is dedicated to providing you with training options to meet your needs, which is why we offer the following three Master Bartender package options: Gold, Silver, and Bronze. Each option is a great package deal at a low price and provides a different combination of our high-quality hospitality training certificates.
Master Bartender Packages
Gold Level - Master Bartender Package - $129.95

Bartender Mixology
Responsible Serving of Alcohol
Advanced Wine Knowledge
Liquor Knowledge
Food Safety for Handlers
Online Bartender's Resume
Gratuity Secrets
Waiter/Waitress Hospitality
Club Drugs
Bartender's Handbook & Recipe Guide
Mixing Kit
Silver Level - Master Bartender Package - $79.95
Bartender Mixology
Responsible Serving of Alcohol
Advanced Wine Knowledge
Liquor Knowledge
Food Safety for Handlers
Online Bartender's Resume
Gratuity Secrets
Bronze Level - Master Bartender Package - $49.95
Bartender Mixology
Responsible Serving of Alcohol
Advanced Wine Knowledge
Liquor Knowledge