Home
UST- C Training
Delaware UST- C Training Information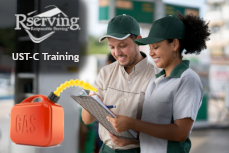 Register an "Employer Account" to enroll employees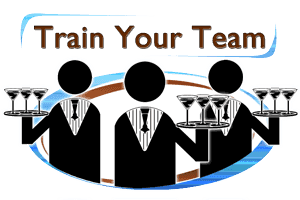 Click for Team Discounts
Click to get information about discounts if you need to train multiple team members.
Class C UST Operator Training Course from Rserving

Each Class C Operator will receive a plastic wallet card as proof of having completed the perscribed training.
Account manager has ability to login and access/print facility specific compliance documents, Class C UST training documentation, emergency procedures document at any time.
Employees receive the UST Class C operator training efficiently and cost-effectively!
What is a UST?
UST stands for
Underground Storage Tank
and generally refers to the system of tank and underground piping used to dispense petroleum, including biofuel blends.
What is learned in UST Class C Operator Training?
Identify Class A, B and C Operator responsibilities.
Understand importance of safe fuel handling procedures.
UST Class C Operator Training Course Topics Include: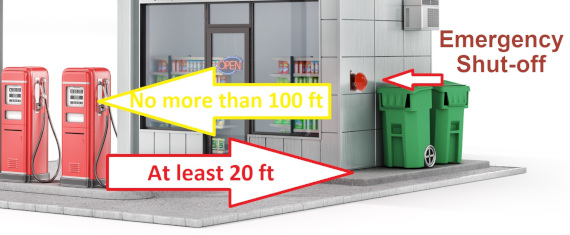 Basics of UST Systems
Automatic Tank Gauges
Fuel Dispensers - Handling Fuel Safely
Portable Fuel Containers
Safety Tips for Filling Portable Containers
Monitoring Fuel Delivery
Emergency Situations & Procedures
Stopping/Containing a Release
Spill Kit / Spill Reporting
Evacuation / Basic First Aid
Fire Extinguishers
UST Class C Operator Training Includes Site Specific Information:
The Rserving® UST Class C Operator Training system is designed to give the UST Class A/B Operators the ability to easily customize the Class C training so each operator for the company is presented with the information specific to the site at which he/she will be working.
UST Site Specific Course Information:
Location of Records & Documents
UST A/B Operator Contact Information
Location of Safety Information
Fire Dept Contact Info
Spill Reporting / Emergency Procedures
Emergency Shutoff Switch Location
UST- C Training is also available through the following offer:
Meets Requirements for UST Training in Delaware
UST Record Keeping Requirements for Delaware:
It is the responsibility of the A or B Operator to ensure there is a trained C Operator for each facility. The names of the Class C Operators do not need to be submitted to the DNREC-TMS but must be available upon request.
Owners and Operators shall submit to the Department on a form provided by the Department a list of the individuals designated as the Class A and Class B Operator for each UST System.

State Contact Information:
Delaware Department of Natural Resources & Environmental Control
Division of Air & Waste Management
Tank Management Branch
391 Lukens Drive
New Castle, DE 19720
Phone: 302-395-2500
Fax: 302-395-2555
Fund Program*
Delaware Department of Natural Resources & Environmental Control
Underground Storage Tank Program
FIRST Fund
391 Lukens Drive
New Castle, DE 19720-2774
Phone: 302-395-2500
Fax: 302-395-2555