Home
iBar Bartending Simulator

3 distinct learning modes to help you hone your skills and become an expert bartender mixologist!
Perfect your bartending skills and learn to mix popular drinks!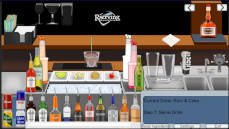 Using the iBar simulator promotes drink memorization and can help with matching glassware to drinks, memorizing recipes, and garnishes. The iBar software is the next best thing to practicing making drinks with actual glassware and liquors. The iBar will help you learn the process of mixing various types of drinks and help you hone your skills!
The interactive bartender simulator iBar consists of 10 interactive lesson to help you improve your skills and become an expert bartender.
Cream Drinks
Garnishes & Mixers
Two Liquor Drinks
Sour Drinks
Martinis/Manhattans
Highball & Juice
Exotic Drinks
Wine Drinks
Hot Drinks
Shooter Drinks
Perfect your timing to always pour the perfect amount of alcohol for a drink.
iBar Bartending Simulator software is included as part of the Bartender Mixology Course from Rserving.