Home
Gratuity Secrets
Course length: 10 hours
Increase your income - Earn more tips
It doesn't take employees in the hospitality service industry long to realize how important tips are to their income. The Gratuity Secrets Course teaches effective methods that bartenders and servers can use to increase tips.
Tips are good for employees AND employers
Restaurants and bars rely on customer tips to supplement their employees' income. Employee satisfaction plays a big role in keeping turnover down. Supplementing bartender / server income with tips is a cost-effective way to raise employee income while keeping costs down.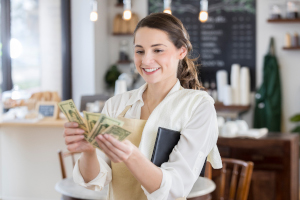 The hospitality / service industry is one industry where employees can essentially give themselves a raise by earning more money in tips.
Learn what it takes to provide the efficient, friendly, and professional service that satisfies customers and earns you more tips!
* The Gratuity Secrets Course can be used for training in all states!
Save over 40% with bundled package savings!
Get this as part of the the Rserving Master Bartender Training Package and save!

If you don't want to sign up for the Master Bartender Package, you can sign up for this course alone using the "Add to Cart" button below.




Click the

add to cart

button below and proceed to the checkout to get signed up. You will be emailed a username/password to login and begin.




---
Gratuity Secrets is also available through the following offer: