California Managing Responsible Alcohol Servers
California Managing Responsible Alcohol Servers Information
---
California California Managing Responsible Alcohol Servers Course Approval

The California Managing Responsible Servers Course has been approved as part of the California Responsible Beverage Server (RBS) program for the CA Supervisor/Manager Training. This course is for individuals employed by licensed premises in California with the responsibility of supervising or managing sellers or servers of alcoholic beverages to the public in California. You can complete the California manager online alcohol awareness training at your convenience and upon successful completion of the course, you can print a copy of your certificate right away.
In addition to the California laws regarding alcohol sales and service, alcohol's effect on the body, and how to recognize intoxication and refuse service to intoxicated or underage customers, this course will also teach you how to develop your own responsible company policies according to California regulations, what topics you should cover in your policies (sample policies for both on-premises and off-premises establishments in California are included), how to perform a risk assessment of your establishment and provide active managerial control for risk factors identified, implementation of your company policies, how to monitor employee compliance with company policies, the importance of incident documentation for California establishments, including what incidents should be documented and how to properly document an incident, and responsible marketing practices and alcohol promotion in California. This course will also cover crisis management, what to do in emergency situations, and disaster planning, as well as record keeping policies, good hiring practices, and employee training.
Employers receive discount pricing.

Receive your official PSCC Rserving Responsible Serving® of Alcohol Wallet Card for CA Responsible Serving® of Alcohol in the mail!
No Extra Charge!
After you complete the course, you are able to generate your printable certificate for CA Responsible Serving® of Alcohol immediately.
You will automatically receive your PSCC Rserving bartender's license / wallet card for CA in the mail within 15 days.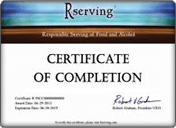 There is no additional cost to receive your bartender license / wallet card!
Discover the responsible management skills that will provide a safe environment to sell and serve alcoholic beverages. This course will teach you to recognize the potential risks of irresponsible alcoholic beverage service practices, develop responsible service policies and procedures for your employees, and implement basic principles for responsible beverage service in all areas of your business including marketing and promotion, age identification, intoxication, and security.




Special Pricing: $9.95 Valid For A Limited Time!




Click the

add to cart

button below and proceed to the checkout to get signed up. You will be emailed a username/password to login and begin.




---