Home
Hawaii Workplace Harassment Prevention Information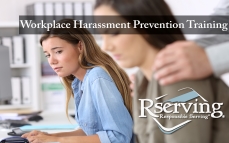 Employers
Register Here:
Sign Up - Free Employer Account
If you are an employer,
Sign up for an employer account
to purchase training for your employees:
Discount pricing for bulk orders:
0-100 courses for $3.99 each
more than 100 courses for $2.99 each
Successfully train your entire staff with low price and efficient training.

This training is designed to set forth a common understanding about what is and what is not acceptable in our workplace. This training will help you better understand what is considered workplace harassment. It will also show you how to report harassment in your workplace, as well as your options for reporting workplace workplace harassment to external state and federal agencies that enforce anti-discrimination laws.

Workplace harassment prevention training is an amazing asset for employers, providing a safe and respectful work environment for all employees.In a number of states, courts have ruled that, if the employer took steps to train their staff/employees about workplace harassment prevention, the training would be viewed favorably for the employer in any claims made against another employee, a customer, and/or the business as a whole. So, actions that you take as an employer to train staff and prevent any misconduct will only help your case, should one arise.
Our system provides online access to electronic record of all your employees' training!
Workplace Harassment Prevention Course Includes:
Preventing workplace harassment in the workplace
What is workplace harassment?
Unwelcome conduct
Where can workplace harassment occur?
Bystander intervention
Promoting active bystander culture
How to intervene
Protected activities
Supervisor's responsibility
Mandatory reporting
Reporting workplace harassment
Requirements for a harassment prevention policy
Legal protections
Workplace harassment case studies
Flashcard review
Student acknowledgement statement
Proof of training
Course evaluation
Certificate of completion
Customizable documents: policy templates
To purchase this training:
Sign up for a free employer account
Receive account creation confirmation email.
Set a uinque password on your account
Login and purchase courses for employees
Employer Account Details
Courses can be distributed to employees immediately
Archive | Download | Print employee certificates
Tokens do not expire
First purchase minimum is $19
Courses cannot be resold
Workplace Harassment Prevention is also available through the following offer: